Optimum ease of use and many customisation options
The WPL-A also scores with intuitive user guidance. The 19-inch touchscreen enables easy operation through comprehensible icon language: important production data, statistics, and currently created labels are displayed visually appealing on the screen. Label printing is done via up to four configurable printer options: The printers can apply labels to the product from above or below and support the labelling of common packaging variants such as C-wrap or full-wrap. The product sensors in the unit are also able to handle light-coloured or transparent products and packaging. In terms of printing technology, the customer can choose between direct thermal printing or thermal transfer ribbon, if the products are heat-sensitive.
High-speed printing thanks to state-of-the-art technology
Labels can be customised via Nexus Label Design software with numerous options to ensure compliance with global guidelines: nutritional information, BIS, fonts, symbols or even 2D barcodes or GS1 symbols are available for label printing. The price labelling system also complies with all current legal regulations that are important for operation in the food industry: The WPL-A is approved according to NWCM NTEP (National Type Evaluation Program) and MID (Measuring Instruments Directive). In addition, there is an E-Mark software module that guarantees the printing of statistical data. To ensure traceability, each label is identified by a unique pack number, batch, user and machine ID, which can be transmitted to ERP systems via open protocols. The WPL-A convinces with high-speed printing of up to 125 labels per minute, made possible using advanced print compression technologies.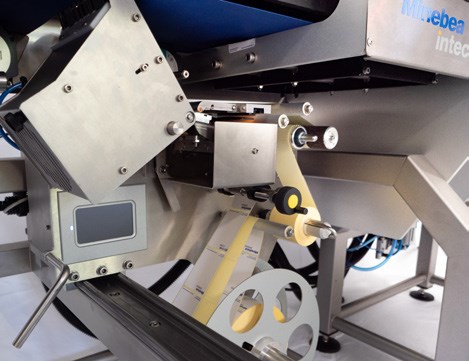 With the WPL-A, we are expanding our range for the food industry. In addition to high-precision inspection solutions and the WPL-S manual labelling system, we now offer a solution that drives the automation process in the food industry. Often, customers only have the choice between a manual labelling solution that costs time or an automated solution with cumbersome operation. With our new product, we combine the best of both worlds: A high-speed solution that also offers user convenience at all levels.

Sara Vivanco, Product Manager in Minebea Intec
If you think the new WPL-A automatic weighing scale fits into your production environment, see the product description for more information.